Estonian and French dominance on the 2nd day of Vasa Orienteering Festival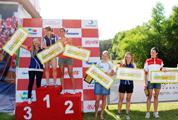 The second day of Vasa Orienteering Festival also took place at the Changchung Jing Yuetan Park. This time it was in a more forested area of this beautiful park. It was long distance for the Vasa runners. The event center was located at the famous Vasaloppet house. The winners of the day were Timo Sild of Estonia, and Lea Vercellotti of France.
The winners were in a class of their own in today's race as Sild won with a margin of 3 minutes and Vercellotti with a margin of 1,5 minutes. It was just like in Estonia with all the green areas, Sild commented after a near perfect run. Sild and Vercellotti were accompanied by Matthias Muller and Tomas Dlabaja, and Ona Rafols and Denisa Kosova in the top three. Yesterday's winners Oystein Kvaal Osterbo and Liis Johansson were both 4th today. It was tight race in the men's class after the top four, as Tuomas Kari on 12th position was only 1,5 minutes behind Yannick Michiels on the 5th spot. Special mention goes to Ona Rafols with the best ever Spanish result in PWT. The best Chinese runners were Yi Zhihui in the men's class and Zhu Mingyue in the women's.