General Information - Vasa Cross Country Running Festival
Vasa Cross Country Running Festival, June 17 , 2012
Jingyuetan Park, Changchun
Organizer: Changchun Municipal Government, Jingyue Tourism Development Group Ltd
Co-organizer: Nordic Ways

Start Time:
9:00 Opening Ceremony
9:30 Start - 30km, 15km, 7.5km

Travel
Travelling to Changchun
Changchun is easily reached by flight to Changchun Longjia International Airport.Taxi from the airport to the City Center is 100 RMB and takes about 1 hour. if you buy Nordic Ways Travel Package, we will pick you up at the airport whenever you arrive and send you off in time for your flight back.


Registration Fee
The registration fee is what you pay to get in the race. It includes start fee, entrance to Jingyuetan Park, number bibs, insurance, refreshments and drinks at Power stations along the track, race diploma and souvenir

See the link "Sign up" for detailed prices

Number Bibs
The number bib is your entry ticket to the race which should be worn when running. After signing up and paying for the race, you need to pick up your number bib in Changchun.

All number bibs will be handed out in Vasaloppet Office

地址:净月大街5804号净月潭风景名胜区瓦萨博物馆 邮编:130000
Address: Vasaloppet House, Jingyuetan Scenic Spot, No.5840 Jingyue Street

TEL/电话:+86-431-8964 5455





Travel Package
Nordic Ways Travel Package will take care of you from the time you arrive in Changchun to when you leave. Included is:

Transportation
Pick up at Changchun Longjia Airport/Changchun Train Station/Long distance bus station according to your individual arrival time, transport to Hotel. Transport between hotel and arena during race days. See off from Hotel to Airport/Train/Bus Station suited to your departure time.

Accommodation
in double room at Shangri-la Hotel (5 Stars)during your stay. Please note who you want to stay with during the race. If you want to stay in a single room, it costs 300 RMB extra per night in addition to the travel package price. If you are just one person but want to stay in a double room, we try to book you with another single person.

Meals
Breakfast is served at the Hotel, lunch will be served each day as well as dinner/dinner banquet.

Click on the link "Travel Packages" for full price list


Time keeping
We will keep the time of each participant in the 7.5km, 15km and 30km groups. This is done by the use of an RFID-chip on the back of every number bib. The chip is read by antennas along the track and at the Start/Finish. Your chip information will be stored in a computer together with your name so that it can easily be printed out after the race. The chip is has a low-frequent wave and does not interfere with regular electric equipment.
The Number Bib
You should fix your number bib on your chest with 4 safety pins and keep in on from before start until after finish.



Do not fold the number bib in any way since it might affect the antennas reading of your time. If you do not have your number bib with you at Finish, you will not get your time registered. You must not run off track since it also might affect the reading of you chip.
The Track
Follow the color signs of your race distance to complete the course:

Going to Jingyuetan Park
You can go to Jingyuetan Park with Bus 160 (End Station - Jingyuetan 净月潭), Bus 120 (Jingyue Zhengmen 净月正门) or the Light Rail (Jingyuetan Park 净月潭公园). Travel package buyers go with the bus from Shangri-la Hotel directly to the Park. The arena is just inside the Park Entrance.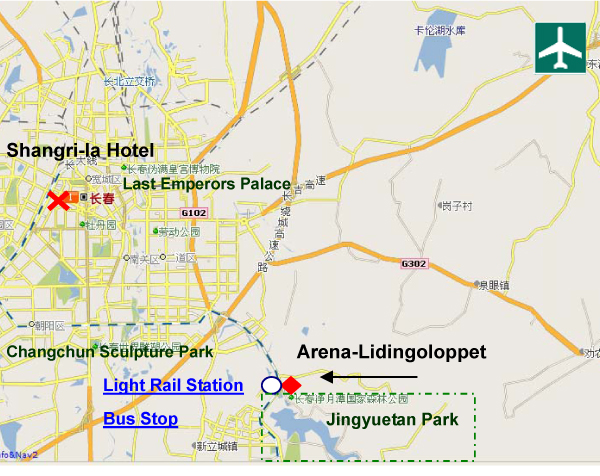 Race Rules and Regulations

-.All participants should arrive in the competition area before half past eight on June 16. All participants should show their number bibs when entering the park.
-.Please check the arena map at the park main entrance in order to not get lost Find your own starting location according to the colors of your own number bib. We strongly recommend participants to do the warm-up activities together with our fitness instructors, then watch the opening ceremony and get ready to go.
-. The starting sequence of different groups of the competition is: 30 km, 15 km, 7.5 km. Please listen to orders and instructions from our volunteers and staff at stage and around the start. Do not run before the start signal is given, be patient!
-. Track and profile map can be found under Track Map & Profile
-. The different groups of participants should follow the track with signs with the same colors of your number bib. (For example, if your color of number bib is red, you should follow the track with the red signs) .If you have any question during the race, please ask any of our volunteers along the track.
-. Participants can go to Jingyue Park by No.160 or No.120 bus, or light train.
-. There will be a small changing tent where you also can leave clothes, etc with our volunteers. But please take care and do not bring valuables. If something is lost, the organizer will not be responsible for it.
-. You are only allowed to use your own legs to finish the race, transportation like bicycle, car or equivalent is not allowed.
-. We focus on forest fire prevention! Smoking and the use of open flame are prohibited in scenic spots!
-. There are toilets at the starting and finish area. There are drinking station and mobile medical ambulances every five kilometers on the 7.5 kilometers, 15 kilometers, and 30 kilometers race. There are clear marks on every track. Always listen to the volunteers and staff at the different stations.
-. All participants should follow competition requirements and rules from the beginning to the end, breaking the rules might lead to disqualification.
-. The Competition Information Center is close to the stage. If you have any questions our volunteers cannot answer, please ask there.
-. You can pick up your Race Diploma at the finish area after finishing the race.
-. The award ceremony of 7.5 kilometers, 15 kilometers, 30 kilometers race will be held at 12 o'clock, and all participants should join and celebrate the top three athletes in every category.
-. The race will be held in Jingyuetan National Forest Park. Most of the track is in the forest. At the same time, the cross-country track will also pass a lot of famous scenic sites .All the participants should respect and protect the environment and not throw rubbish on the ground.
-.There will be midsummer lunch, beer festival, midsummer party, traditional Swedish food and a Swedish chorus will sing.
-.It is hot in Changchun during the summer, be aware of heat stroke and drink a lot of water!
For more information. Contact registration@nordicways.com at Beijing Office TEL: +86(10) 8580 1757 Changchun Tel:+86(431)8964 5455

2012.02.10
{/if}